Education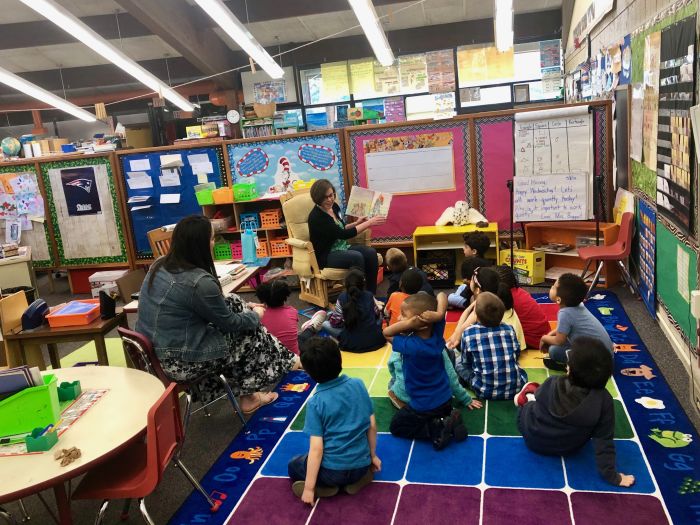 Continually improve our public education - our greatest asset - and ensure that all of our students receive the encouragement and education they need to dream and achieve their aspirations. Celebrate and recognize the qualifications, dedication and pride of our educators - teachers, nurses, custodians, social workers, paraprofessionals, psychologists, specialists and administrators.
I first became engaged in our community while volunteering in classrooms in our public schools from Preschool to High School. Education is the single most important resource of a town. It is the key to a successful future for our students. Plus, when young families are looking for a place to live, they look for highly rated public schools.
Eliminate The Achievement Gap
I fully support Hamden Board of Education's five goals for the next three years to begin to address the achievement gap.
All students will demonstrate accelerated growth in reading with the goal of meeting proficiency by the end of grade three

All students will demonstrate accelerated growth in math, with the goal of achieving Algebra I readiness by the end of grade eight

Increase student achievement in grades 9-12

Reduce student chronic absenteeism districtwide

Increase equity districtwide
The achievement gap has been a longstanding challenge and we must do better. My administration's goal is to completely eliminate the achievement gap.
To eliminate the achievement gap, we will need the full engagement of parents, students, school staff and education experts. Together, we will thoroughly examine the impediments to achievement and ensure that we have new strategies, tools and resources to eliminate the gap.
Special Education
Work with the Board of Education and encourage a more robust Special Education Program that educates more of our students within our Hamden Public Schools. We will reduce - with the longer term goal of eliminating - sending Hamden students to costly schools out of district where we have limited control of care or outcomes. Expand the preschool pyramid program. I trust that our educators can do more within our schools if they have the appropriate resources.
Teacher and Administration Diversity
61% of our students in Hamden Public Schools are black or brown. We need to meet the needs of all of our students and create a school system that provides mirrors and windows into their lives.
Earlier this year, I organized a panel discussion about Educational Justice that included Jody Goeler (Hamden Superintendent of Schools), Gary Highsmith (school district Director of Human Resources), David Canton (Connecticut College history professor), Jessica Powell (Southern Connecticut State University elementary education professor), Roxana Walker-Canton (founder of KIMCAN Academy) and Rhonda Caldwell (Anti-Bias Anti-Racist Committee organizer). New Haven Independent: Hamden Panel Calls For Teacher, Curriculum Diversity. This has encouraged the HPS administration to look into a teacher pipeline to recruit and retain black and brown teachers. Additionally, professional development will focus on cultural competency this coming school year.
Pre-K Program
We will make pre-k available at all of our elementary schools. This multiple benefits include closing the achievement gap, retaining more of our kids in Hamden Public Schools, and assisting young families with affordable options.
State Funding For Education
The State allocation of education funds shortchanges Hamden and increases our property taxes. My plan, already under way, includes the establishment of a robust dialogue to build relationships with the Governor and General Assembly so Hamden can get its fair share again, and we can provide the appropriate resources to schools, instead of closing them, and reduce our property taxes.
Promote Career and Technical Education (CTE)
Promote and Broaden the vocational training classes and alternative education opportunities at Hamden High
Encourage Innovation and Civic Engagement
Encourage student leadership in our high school through scholarships for continued education based on civic engagement during High School. Sponsor an innovation grant through the Hamden Education Foundation for a teacher who creates a program or activity for students that promotes experimentation with and exploration of potential career options.
Associates Degrees Awarded Upon High School Graduation
Students who take the prerequisite college level advanced placement classes will receive an accredited Associate's degree