SNAP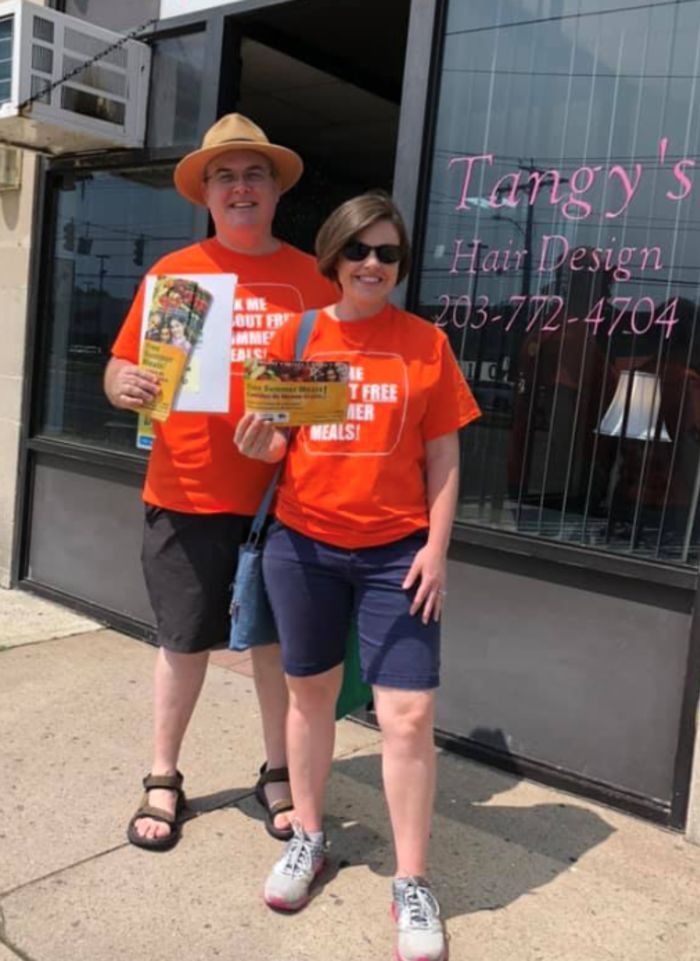 July 30, 2019
Via email to SNAPPDBRules@usda.gov
Hon. Sonny Perdue, Secretary
United State Department of Agriculture
Program Design Branch
Program Development Division
Food and Nutrition Service
3101 Park Center Drive
Alexandria, Virginia 22302
Re: Revision of Categorical Eligibility in the Supplemental Nutritional Assistance Docket ID Number FNS-2018-0037
Dear Secretary Perdue:
The undersigned have the privilege of serving the Town of Hamden, Connecticut. The views expressed in this letter represent only our personal opinions.
We write to comment on the regulatory changes recently proposed by the USDA to the rules concerning categorical benefits eligibility for the Supplemental Nutritional Assistance Program (SNAP) through qualification for benefits under the Temporary Assistance for Needy Families (TANF) benefits, as provided for under the terms of the Personal Responsibility and Work Opportunity Reconciliation Act of 1996, P.L. 104-193 (PRWORA).
In brief summary, the regulatory changes proposed include these changes to the existing regulations:
"Benefits" for purposes of categorical eligibility for SNAP by virtue of qualifying for TANF benefits would mean ongoing and substantial benefits. The proposed regulations suggest that the USDA views "ongoing" as referring to benefits that last at least six months and "substantial" as having a value of no less than $50 per month

The non-cash TANF benefits for whose qualification would confer categorical SNAP benefits under the proposed regulations would be those that focus on subsidized employment, work support, and child care and

State agencies would be required to inform USDA of all non-cash TANF benefits that confer categorial eligibility.
Because these proposed changes are contradicted by expressed Congressional intent, have the effect of imposing unnecessary and substantial burdens on the state and federal administrative apparatus as well as the individuals intended to be benefitted by the underlying law, and address small or non-existent compliance issues, it is our belief that they should not be implemented. USDA could achieve its desired results of creating "a clearer and more consistent nationwide policy that ensures categorical eligibility is extended only to households that have sufficiently demonstrated eligibility by qualifying for ongoing and substantial benefits from TANF-funded programs designed to assist households and move them towards self-sufficiency" simply through better enforcing the existing statutory framework.
USDA Docket ID Number FNS-2018-0037 July 30, 2019 Page two
I. The Proposed Regulations Offer Statutory Guidance that Contradicts the Intent of Congress
Under federal law, individuals are eligible for SNAP if they either (1) meet income and asset limits specified in federal law (i.e., traditional eligibility) or (2) receive benefits from other low- income assistance programs (i.e., categorical eligibility). SNAP eligibility is calculated on a household basis. Categorical and expedited access to cash assistance dates back at least as far as 1971 amendments to the Food Stamp program.1 In 1977, these rules were eliminated, but from 1982 through 1990, categorial eligibility was progressively returned to the statutory landscape.
The laws of our state, Connecticut2, apply categorical eligibility for SNAP benefits to individual applicants if they meet a gross income test of 185% of the federal poverty level (FPL) and a net income test of 100% of the FPL.3 No asset test applies. This is consistent with the broader authority the PRWORA gave to the states when it replaced the former Aid to Families with Dependent Children (AFDC) statute.4
Categorical SNAP eligibility rules were embraced by Congress as supporting four important goals of the program:
Simplifying administration

Easing entry into the program for eligible households

Emphasizing coordination among low-income assistance programs and

Reducing the potential for errors in establishing eligibility for benefits5
AFDC, until it was replaced by PRWORA and TANF, was a cash assistance program. Within federal limitations, states could set eligibility and benefits amounts. AFDC was a cash welfare program. AFDC qualifications requirements were more restrictive than food stamps requirements, and most AFDC beneficiaries received food stamps.
---
1 See, P.L. 91-71, §6

2 40 states, as well the District of Columbia, Guam, and the Virgin Islands apply this or substantially similar broad based categorial SNAP eligibility policies

3 Several towns in Connecticut also have work requirements applicable to able bodies adults without dependents in some cases. See, generally, 7 CFR §§ 273.7 and 273.24

4 The Omnibus Budget Reconciliation Act of 1982 (P.L. 97-253) provided that a household in which all members received Aid to Families with Dependent Children (AFDC) cash assistance bypass the Food Stamp asset test (but not the income eligibility test). The Food Security Act of 1985 (P.L. 99-198) provided that households in which all members received AFDC or SSI would be automatically eligible for Food Stamps, bypassing both the income and asset tests. P.L. 99-198 made this a temporary provision that would sunset at the end of FY1998. P.L. 100-435 eliminated the sunset, making categorical eligibility a permanent feature of Food Stamp law. Categorical eligibility was extended to recipients of state-run general assistance programs in 1990, enacted as part of P.L. 101-624.

5 U.S. Congress, House Committee on Agriculture, report to accompany H.R. 2100, 99th Cong., 1st sess., September 13, 1985, H. Rept. 99-271, Part 1 (Washington: GPO, 1985), p. 142
---
USDA Docket ID Number FNS-2018-0037 July 30, 2019 Page three
The policy purposes of TANF are usefully described here. Because of the large differences in state economic conditions, employment rates, and rates of change in those variables, TANF was structured to improve state flexibility in four policy goals:
Provide assistance to needy families so that children can be cared for in their own homes or in the homes of their relatives;

End dependence by needy parents on government benefits through promoting work, job preparation, and marriage;

Reduce the incidence of out-of-wedlock pregnancies; and

Promote the formation and maintenance of two-parent families.6
The statute provides that states may use TANF funds and associated state funds (often referred to as Maintenance of Effort, or MOE funds) in any manor reasonably calculated to accomplish the purpose of the TANF statute.7
TANF funds a broad range of benefits and services that are intended to relieve the effects of and address the root causes of poverty. TANF benefits addressed toward the first two policy goals of the program (i.e. facilitating assistance and reducing or ending dependence on public assistance) are needs-tested and states determine their own thresholds. The benefits under these tests are generally available at higher levels of income than are cash benefits, and without an asset test.
TANF services directed at the third and fourth policy goals (reducing out of wedlock pregnancies and promoting two-parent families) can be delivered to any person in the state and are not restricted to persons with children. Federal rules also do not require recipients be needs tested.
The 1996 PRWORA did not substantially change the categorical eligibility rules for SNAP. The new law merely replaced the reference to AFDC with a reference to TANF in the section of the statute that provides for categorical eligibility. TANF provides states much broader authority than they had under AFDC to offer a range of benefits, including services. As a result of the expansion of authority provided by the TANF law, states were given the authority to provide categorical eligibility based on a wide range of human services and were no longer restricted to premising qualification for SNAP benefits only on eligibility for cash welfare.
SNAP is typically addressed in the Farm Bill, which is passed approximately every five years and sets American food and agriculture policy. In the last two Farm Bills, Congress specifically considered, and rejected, changes such as which the USDA now proposes to make by regulation. Hence, the proposed regulatory changes contradict Congressional intent.
---
6 See, Social Security Act, §401(a)

7 See, Social Security Act, §404(a)(1)
---
USDA Docket ID Number FNS-2018-0037 July 30, 2019 Page four
In 2014, the version of the Farm Bill that initially passed the House would have eliminated categorical SNAP eligibility entirely.8 The final version passed by the House and Senate rejected this change and kept categorical eligibility intact.9
The House version of the 2018 Farm Bill proposed to limit, but not eliminate, categorical eligibility.10 The changes to categorial eligibility the House version proposed were:
Categorical eligibility for SNAP benefits would be based on eligibility for and receipt of SSI, state general assistance, or "cash assistance or ongoing and substantial services" through a state program funded by TANF11

Two gross income limits for broad based categorical eligibility – o Households with an elderly or disabled member must be at or below 200% of the federal poverty line o Households without an elderly or disabled member must be at or below 130% of the federal poverty line

Households meeting applicable gross income limits and receiving a TANF funded benefit that provides categorical eligibility would, under the House version, not have had to meet the law's asset tests
The Congressional Budget Office estimated that, in an average year, the House version of the law would have eliminated SNAP eligibility for about 400,000 households. Because SNAP eligibility is also the gateway for school students to free and reduced-price breakfasts and lunches, CBO also estimated that the House bill would cause 265,000 children to lose access to meals.12
---
8 H.R. 2642, as combined with H.R. 3102, known as the Nutrition Reform and Work Opportunity Act

9 P.L. 113-79

10 H.R. 2, as passed June 21, 2018

11 The similarity of the language of the Congressionally rejected bill to the language of the proposed USDA regulatory change is notable

12 CBO, Agriculture and Nutrition Act of 2018, H.R. 2, May 2, 2018, p. 7
---
USDA Docket ID Number FNS-2018-0037 July 30, 2019 Page five
II. The Proposed Regulatory Changes Would, if Implemented, have the effect of Imposing Substantial and Unnecessary Burdens on Stakeholders
In Connecticut, approximately 98% of federal TANF funds are used for non-cash benefits and all of our students who receive free and reduced-price meals qualify through SNAP. In Connecticut, direct enrollment in the National School Lunch Program (NSLP) through SNAP participation is approximately 63,000 children.13
Approximately 9.18%, or 5,626 of Hamden's residents are SNAP recipients.14 A monthly average of 41.89%, or 2,060 of Hamden's students are eligible for free and reduced-price meals.15 Put another way, the families with whom we work, play, and share time with depend for their children's success on this critical access to food. Asking them to complete yet another, redundant set of application forms when they have already demonstrated their compliance with TANF guidelines consistent with the applicable statute appears to have no purpose other than creation of an artificial burden designed to discourage, or even disable, them from accessing the very educational tools that will enable them to escape the cycle of poverty that had ensnared their forbears.
Further, the introduction of an additional layer of administrative compliance would require the reallocation of resources by already overburdened state government agencies charged with administration of TANF and SNAP, not to mention the demands on already-qualified beneficiaries created by duplication of application through often-difficult travel, time away from work and caring for ailing family members. The gratuitous introduction of error that necessarily accompanies iterative reporting will serve neither the federal nor the state government entities charged with administration. Not incidentally, these are the very reasons for the introduction of categorical eligibility in the first place.16
---
13 From school year 2015-2016 data.

14 SNAP Work Requirements and Enrollment by Town, M. Fitzpatrick, Connecticut General Assembly Office of Legislative Research, June 17, 2016. Population estimates from Connecticut Department Public Health

15 Data compiled from School Profile and Performance Reports for School Year 2018-2018, Connecticut Department of Education

16 See. n. 5, supra., and accompanying text
---
USDA Docket ID Number FNS-2018-0037 June 30, 2019 Page six
III. The Proposed Regulations Imply a Level of Error Which Does Not Exist
The text of the proposal implies that several recipients of SNAP benefits should be disqualified from such benefits because they have incomes or assets in excess of the federal SNAP ceiling. This argument is incoherent because even categorical eligibility for SNAP still requires either meeting federally prescribed income and asset limits or meeting eligibility requirements for specified TANF or other means tested benefits.
Federal law requires states to restrict TANF-funded cash assistance to "needy" families.17 Therefore, states must require that TANF families meet a test of financial need. However, there is no federal definition of need. States define the criteria for determining whether a family is financially needy and eligible for TANF cash assistance.18 In short, Congress explicitly devolved the authority to determine need, for TANF purposes, to the several states. In turn, persons eligible for TANF are made, by operation of federal law, eligible for SNAP without having to go through a duplicative application process. 19
The Department proposes, instead, that the statutorily provided categorical eligibility rules should be ignored and only the direct means tests should be applied.20 As this result would require selective application of federal law, it is contrary to both the letter and the spirit of the law and should not be obtained. [text continues on next page]
---
17 42 U.S.C. §602(a)(1)(A)(i)

18 G. Falk, Temporary Assistance for Needy Families (TANF): Eligibility and Benefit Amounts in State TANF Cash Assistance Programs, Congressional Research Service, July 22, 2014

19 7 U.S.C. §2014(a)

20 See, 7 U.S.C. §2014(c)(2)
---
USDA Docket ID Number FNS-2018-0037 June 30, 2019 Page seven
As well, there is no risk of error to be corrected by regulatory intervention.
For the first time in three years, on June 28, 2018, the U.S. Department of Agriculture (USDA) released new data on improper payments in the Supplemental Nutrition Assistance Program. The USDA stated in a press release that the new data reflects an improved reporting process that will better enable USDA and its state partners to make informed, data-driven decisions to improve program integrity. The national SNAP benefit payment error rate – a measure of both overpayments and underpayments made by all states nationwide – in fiscal year 2017 was 6.3 percent. This apparent increase over the 3.66 percent reported for fiscal year 2014, is believed to be largely the result of the improved measurement procedures implemented by the Food and Nutrition Service (FNS) to improve the accuracy of the data, rather than an actual increase in improper payments.21 In the measures of payment error rates, 28 of the 53 jurisdictions22 demonstrate payment error rates less than the national average of 6.3%. 25 jurisdictions had error rates at or above the national average. Connecticut's payment error rate was below the national average at 5.58%. It does not appear at all clear that the proposal to effectively federalize the SNAP eligibility process would accomplish any more than to compel jurisdictions with efficient and effective benefits allocation processes to subsidize less efficient jurisdictions.
In sum, then, because the proposed regulatory changes are contrary to Congressional intent, inconsistent with existing law, would impose unnecessary and counterproductive administrative burdens on every program stakeholder, and would not accomplish their stated purpose, they should not be adopted.
Sincerely,
Dan M. Smolnik
Lauren Garrett
---
21 See, USDA Corrects Error Reporting Issues; Releases FY 2017 SNAP Payment Error Rates Release No. FNS 0004.18, June 28, 2018

22 The error metrics also included the District of Columbia, the Virgin Islands, and Guam. The table can be accessed at https://fns-prod.azureedge.net/sites/default/files/snap/FY17-QC-Payment-Error-Rates.pdf